33 Punch Bowl Drive
Suite 101 Halifax
Nova Scotia B3P 2C4

info@denmarkproductions.com

Studio
902 477 0399
Toll Free
866 477-0399
Cell phone
902 499 0390
Fax
902 477-5880

We Now Accept
DENMARK PRODUCTIONS
902 477-0399
Professional Audio since 1988 "Owned and operated by engineer/producer Dennis Field Featured on Much Music News, Going Coastal, Global Noon, Live at Five and CTV. Q104, CKBW, 89.9 Hal Fm. Judge at the 2007, 2008, 2009, 2010 ECMA Awards. Judge at the 2000, 2003, 2005, 2006, 2007 and 2008 Juno awards"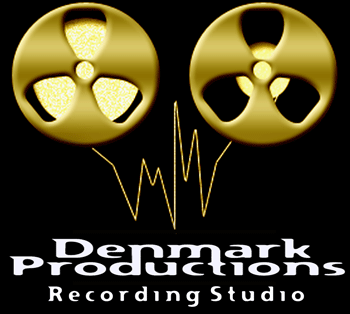 Services offered at Denmark Productions

(a) Our Studio rate starts at $45.00* per hour for Pro Tool HD 3 Version 10 192 Tracks, 24 Track Alesis Hard Disk HD24 (24 Bit). Hard drives are available on a purchase or rental basis. This also includes an award winning Engineer and Producer. You will not be put with a student engineer.

Cancellation fee may apply to booked sessions
2 hours of studio time

(d) Mastering (computerized digital editing) $55.00 per SONG.
Professional Mastering Equipment
Avalon AD 2055 Stereo Mastering Equalizer
Avalon 2044 Stereo Mastering Compressor
Avalon 747sp Vacuum Tube Compressor / Equalizer
Waves MAXX BCL Mastering Processor
Empirical Labs Fatso Tape Saturation Compressor
Wavelab 7.0, Pro Tools 10 HD, Plextor Master CD burners
We check all master CD's after mastering for C 1 and C 2 errors
Making sure your masters are ready for duplication
Mastered at Denmark Productions
Singing Solidarity, Border Crossing, Lennie Gallant, Wilf Bean, Nancy White, Tara Maclean, Cesar Morales, R.A. Lautenschlager, Cheryl Gaudet, Coco Love Alcorn, Four The Moment, Scott Parsons, Old Man Luedecke, Carolyn McDade and Friends, Shauntay Grant, One More Addiction, Laurie Little, Crystal Taylor, Eltom Adams, Bruce Mills, Redstar, Deadwater, Halifax Plugged - In Series 1 through 10, Louis Leroux, Vince Morash, Bill Dawe, Kevin MacDonald, Paula Danyluk, Eric Fresia, David Stone, Paranoize, 460 Kustom, Cody Roberts, Brite-Vu, Metalheart, Fifth O'Whiskey, Luke Watters (Maritime Idol), Vapid, Bob Ardern, Wendy A Stewart, 7 MiLE STARE, Emma-Lee Blazing, Trial By Wire, Civil Condition, Invictive, Epelectric, The Regal Beagle Band, Already Casual, Medusah, Redstar, Devils Elbow, Shatter The Sunrise, Stephanie Anderson, Jess Healy
Computerized Audio restoration $75.00 per hour.
*Cancellation fees will apply to Pre Booked cancelled sessions
*No refunds will be given on studio time purchased, pre paid studio sessions, Mastering, gift certificates, transfers or duplication